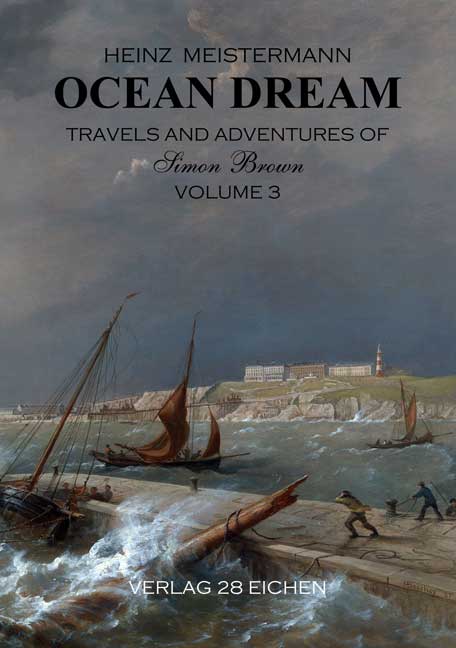 Shots in the darkness, dim shapes, an attack. Without thinking, Simon pulls his pistol from his belt and cocks the hammer. Covered in a long cloak, an attacker jumps onto Muir, who is kneeling next to Simon, reloading his gun just at this moment.
Heinz Meistermann, born in 1963, lives with his wife and three children in Lohne. After training as an assistant tax consultant, he completed a degree in Business Administration as a Diplom-Kaufmann. Afterwards he took over the family business that he completely reorganized and readjusted. After further years of studying, he completed, in addition to his daily work, the Diploma in Wines & Spirits (WSET) and began to write the adventures of Simon Brown. In addition to his work-related attention for drinks and the associated travel, he is particularly interested in foreign countries, history, sports and books.
Heinz Meistermann: Ocean Dream.
Travels and Adventures of des Simon Brown.
Volume 3.

Verlag 28 Eichen, Barnstorf 2020. 276 S. 19,00 €.
Format 15,5 x 22, ca. 480 g. Softcover
ISBN-13: 978-3-940597-128-4
Translation: Aongus Murtagh
angusi expert translations (www.angusi.de)
Cover unter Verwendung des Gemäldes "Wild Weather in Plymouth Sound" (1824) von Richard Brydges Beechey
What has happened up until now
Simon Balthasar Braun, born on the 27th of May 1812 in Mainz, Germany, is the third child of winery owner Balthasar Braun and his wife Josephine-Christine from London. Along with his siblings, Christoph and Josephine, he is tutored privately by the Belgian teacher Rudolf Vonecken, a man with very modern and open views for the time. Simon accompanies his father on a business trip to London when he is twelve. Over a number of weeks he becomes deeply engrossed in the world of wines and spirits at his grandfather Simon Hill's shop. On one of his tours around London he meets an Indian girl called Marala. She is the same age as Simon, and she shows him around her city. When he returns home to the banks of the Rhine, Simon gets to know the mysterious Dutchman Jan ter Bruggen, an experienced around-the-world sailor who has settled on a small vineyard nearby. Over the years, his friendship with the Dutchman awakens in Simon an unbridled curiosity for the big wide world. But in the end it is a letter from Marala that causes him to travel to London and to subsequently emigrate to America. During their reunion he falls in love with the young woman; alas though, she has been promised to another man by her parents. Marala has to obey, so Simon boards a sailing ship called the 'Whitecap' and leaves for Boston. During the crossing, he meets the banker Alastair Rowley and his young wife Lindsay, who invite him to stay at their house in America. From here on he calls himself Simon Brown. He completes his studies at Harvard and makes new friends. Unfortunately, he keeps having run-ins with Alexander Rickleby, a shipyard owner lacking in scruples. When Rickleby resolves to eliminate Simon, the young man has no choice but to take flight. At the last moment he succeeds in getting aboard a merchant ship from Henderson Transatlantic called the 'Norfolk' that is about to set sail for China. On the journey to China via Jamaica, Montevideo, and Cape Town, Simon has a great many adventures and gains a lot of experience, both human and commercial, that will serve him on his further path. The tea purchase in the Middle Kingdom threatens to fail. Only by undertaking a mysterious lifelong obligation to the merchant William Jardine, Simon can secure the trade for Henderson Transatlantic. The return journey from Canton to America does not turn out less stormy and ends with the painful loss of Simon's friend, Callum, who falls into the sea during a storm. Back in his new home in Boston, Simon goes his own way and, with the help of two bankers, founds his own company, Simon Brown Traders, on 3rd of July 1833. Afterwards, he commissions the building of his first ship, a full ship with three masts called the 'Ocean Dream'.